Source of the images used on USPS "Botanical Art" stamps
On January 29, 2016, the United States Postal Service issued "Botanical Art" stamps, depicting highly-idealized paintings of flowers taken from nursery catalogs of over a hundred years ago. These are not only beautiful but fascinating, in that they indicate the aesthetics of the day — what the ideal of perfection was thought to be.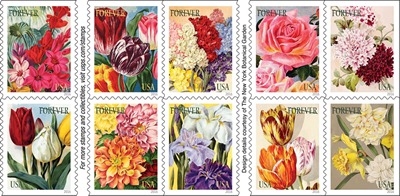 I had an idea for a series of first day covers, but the information from the USPS was woefully incomplete:
Depicted on the stamps, top row from left: corn lilies, tulips, stocks, roses and petunias.
Pictured bottom row from left: tulips, dahlias, japanese Iris, tulips and daffodils and jonquils.
Those vernacular names do not even map directly to species, let alone provide the source of the images. I read through the art credits for the stamps, however, and saw that they were taken from nursery catalogs held by the Mertz Library at the New York Botanical Garden, which boasts one of the largest collection of such catalogs in the country.
So, I sent the library an email, asking if they could help me identify the plants. But the Public Services Librarian did far more than that. She sent me a spreadsheet with the following columns:
The nursery that issued the catalog
The title of the publication
The year (and season, if applicable) of the catalog from which the stamp images were taken
The name given for the flower in the catalog
And, for each, either one or two links: a digitized copy of the catalog in the archives of the Biodiversity Heritage Library, or a digitized copy in the archives of the Mertz Library!
Oh, and just to go entirely above-and-beyond, the spreadsheet rows were arranged in the order the stamps appear in the booklet. Each pair of images below shows a stamp opposite its catalog illustration, and the links will take you to a digitized copy of the catalog from which the stamp image was taken.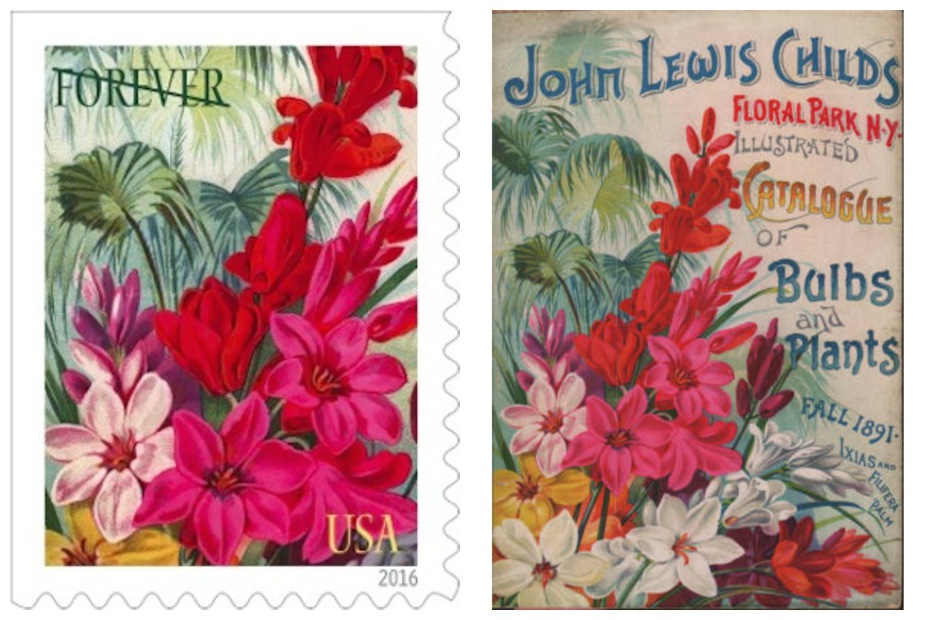 Nursery: John Lewis Childs
Title: Catalogue of Bulbs and Plants
Issue: Fall 1891
Flowers pictured: ixias
http://mertzdigital.nybg.org/cdm/ref/collection/p15121coll8/id/3226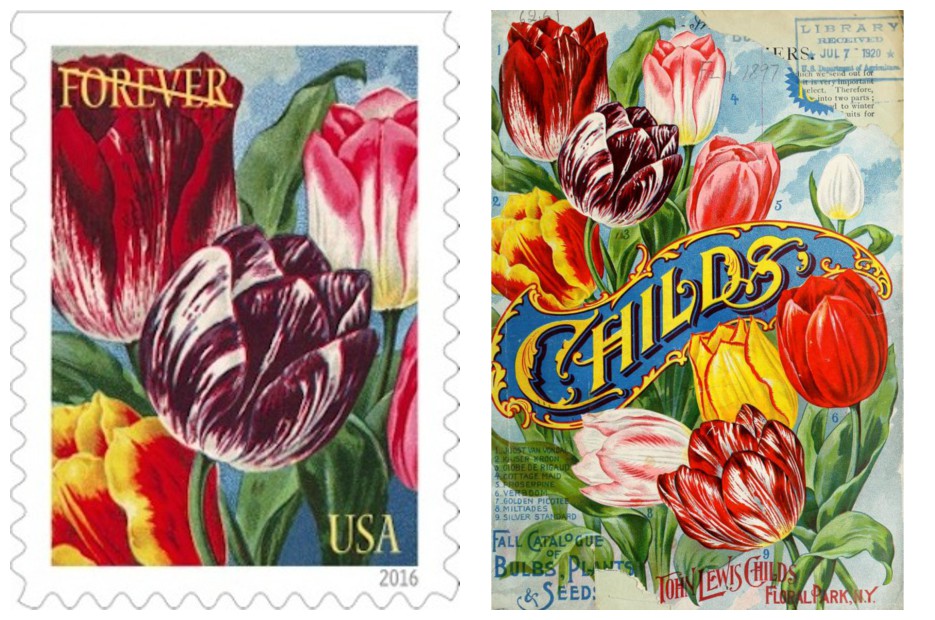 Nursery: John Lewis Childs
Title: Childs' Fall Catalogue of Bulbs, Plants & Seeds
Issue: 1897
Flowers pictured: tulips
http://biodiversitylibrary.org/page/44290234
http://mertzdigital.nybg.org/cdm/ref/collection/p15121coll8/id/3290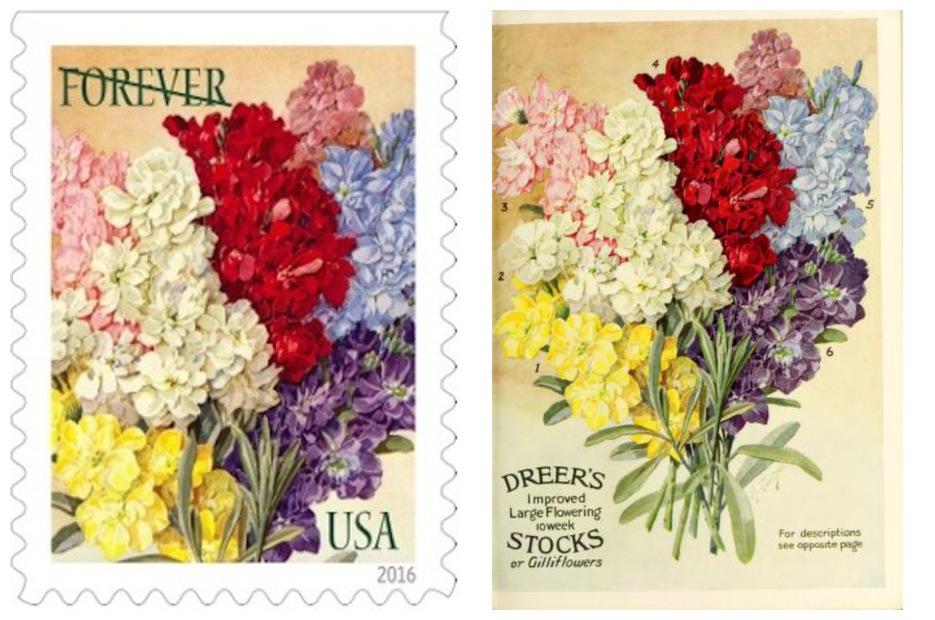 Nursery: Dreer
Title: Dreer's Garden Book : Seventy-Fourth Annual Edition 1912
Issue: 1912
Flowers pictured: gilliflowers
http://biodiversitylibrary.org/page/42695545
http://mertzdigital.nybg.org/cdm/ref/collection/p15121coll8/id/13108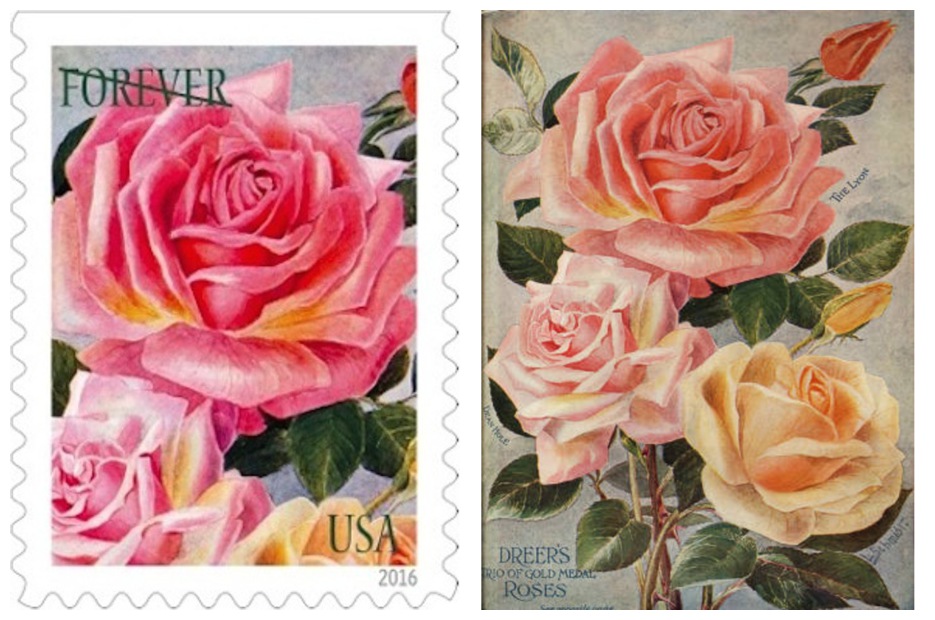 Nursery: Dreer
Title: Dreer's 72nd Annual Edition Garden Book : 1910.
Issue: 1910
Flowers pictured: roses
http://mertzdigital.nybg.org/cdm/ref/collection/p15121coll8/id/15407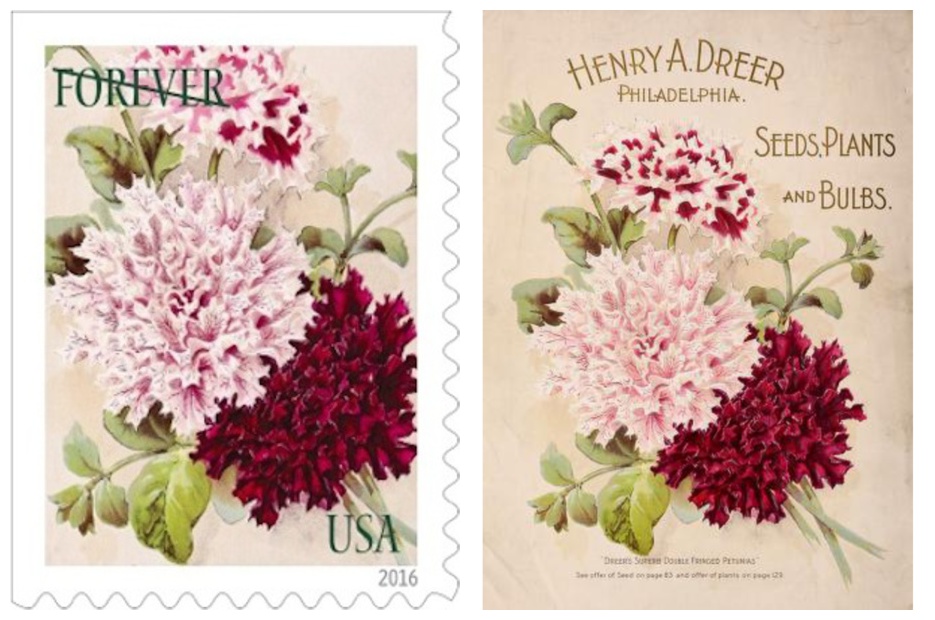 Nursery: Dreer
Title: Dreer's Garden Calendar : 1898
Issue: 1898
Flowers pictured: fringed petunias
http://biodiversitylibrary.org/page/43827887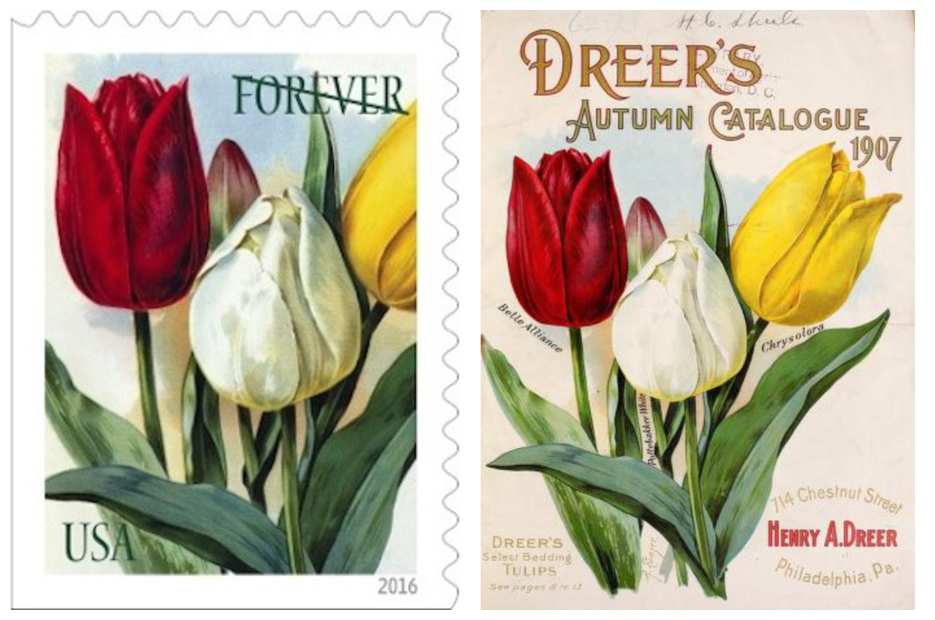 Nursery: Dreer
Title: Dreer's Autumn Catalogue 1907
Issue: 1907
Flowers pictured: tulips
http://biodiversitylibrary.org/page/42720886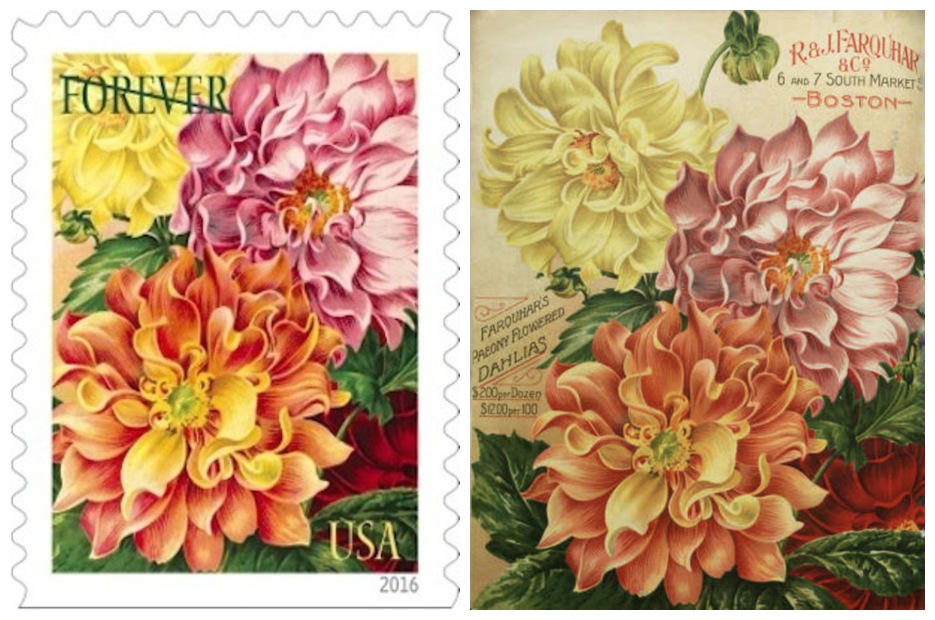 Nursery: Farquhar, R. & J. Company
Title: Farquhar's 1910 Garden Annual
Issue: Spring 1910
Flowers pictured: dahlias
http://biodiversitylibrary.org/page/42231623
http://mertzdigital.nybg.org/cdm/ref/collection/p15121coll8/id/26972
Nursery: Dreer
Title: Dreer's Garden Book : Seventy-Fourth Annual Edition 1912
Issue: 1912
Flowers pictured: Japanese irises
http://biodiversitylibrary.org/page/42695717
http://mertzdigital.nybg.org/cdm/ref/collection/p15121coll8/id/13279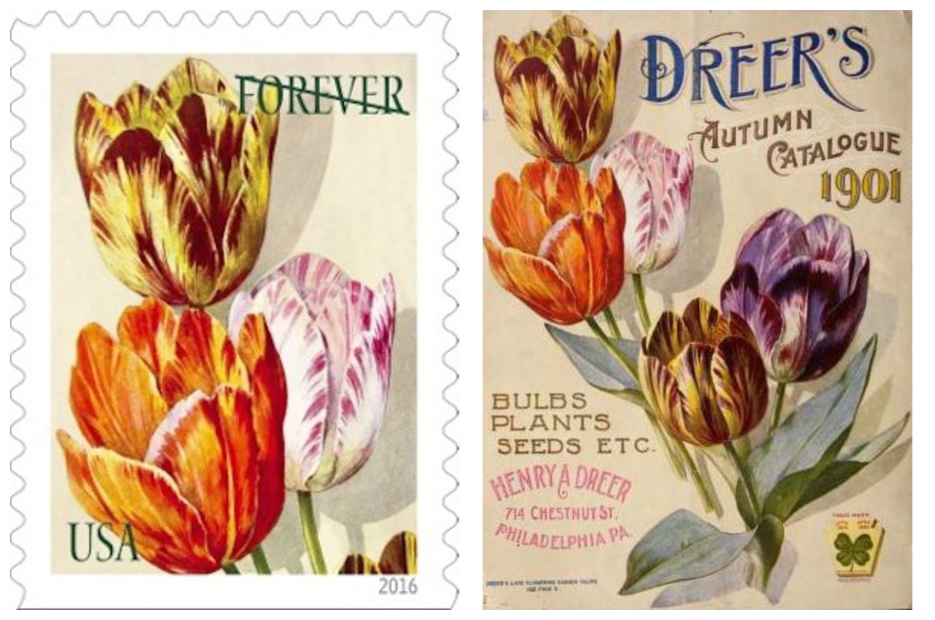 Nursery: Dreer
Title: Dreer's Autumn 1901 Catalogue
Issue: 1901
Flowers pictured: tulips
http://biodiversitylibrary.org/page/42696550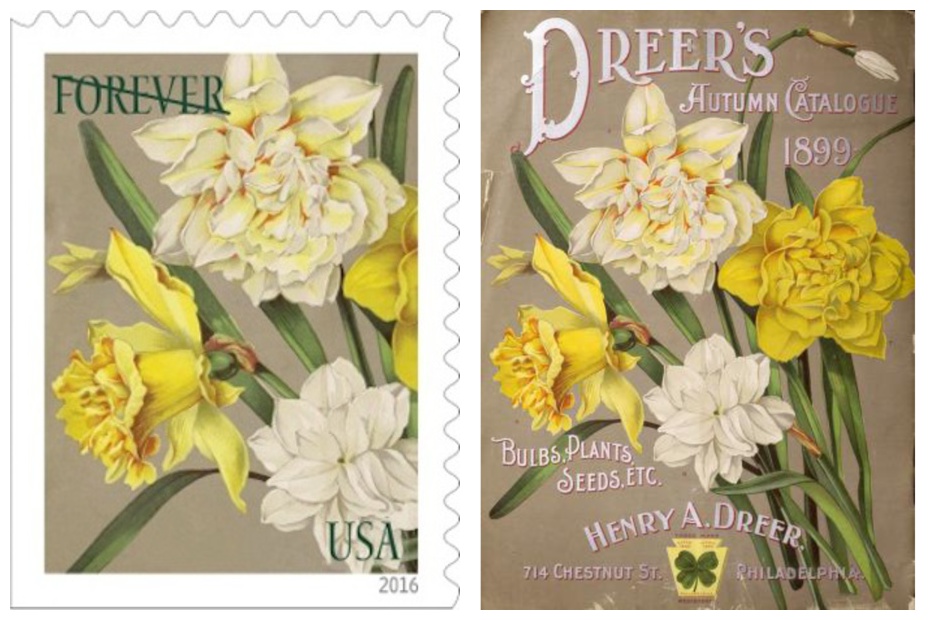 Nursery: Dreer
Title: Dreer's Autumn Catalogue : 1899 Bulbs, Plants, Seeds, etc.
Issue: 1899
Flowers pictured: narcissus
http://biodiversitylibrary.org/page/42696608
With this information, I was able to design my cachets: